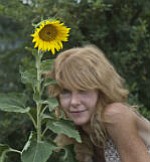 Recent Stories

Those darling clementine's are at their peak right now so stop by the supermarket and treat yourself to something extra sweet.

We've all heard the expression living on a diet of bread and water.

For most of us, cranberry sauce is a requisite part of our holiday feasts.

Apples have long been thought of as the forbidden fruit, which led Adam and Eve astray even though there is no specific mention of apples growing in the Garden of Eden.

lt is born of the purest parents, the sun and the sea; so says Pythagoras.
Remember when your parents told you that eating chocolate would give you cavities? Well, they were wrong.

When is an artichoke not an artichoke?

October is pizza month and, according to the American Dairy Association, it's one of the foods we crave the most.

There's no escaping it.

heck out the Mohave County Fair and find out.