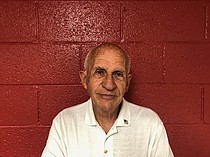 Recent Stories

That I am old and out of tune with today's world is indisputable.
Looking back at the world the way we geezers do, you'd think we have had our heads surgically removed and remounted facing rearward.

A favorite, if unavoidable, pastime of geezers is looking back.

As I walked out my front door a few evenings ago, I was stunned by another of our spectacular Arizona sunsets.

The question is sometimes asked, "What in the world do you people in Arizona see in that ugly brown desert?

The good Lord has allowed me to hang around in this world for more than three quarters of a century now, and I enjoy the freedoms of Geezerhood.