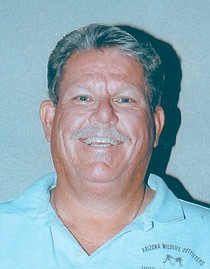 Don is a native Arizona resident who has spent his entire adult life (except for 2 years 9 months and 13 days in Uncle Sam's Army) pursuing his passion of enjoying the great outdoors of Arizona.
Don worked as a law enforcement officer for over 15-years after his stint in the U.S. Army. After an on-the-job injury forced his retirement from the law enforcement field, Don decided to start a business to help others who enjoyed the great outdoors as much as he did.
Working with his friend Larry Sallee, Don started Arizona Wildlife Outfitters in 1987 in Kingman.
Recent Stories

As I reported in last week's column, the Arizona Game and Fish Commission did pass, and by a unanimous vote, a proposal that would prohibit using any lethal method of take during a hunting contest for predatory and fur-bearing animals.

You knew it had to end. The father-son team of Ray and Donnie Scroggins didn't win the Kingman Bass Club's fourth tournament of the year.

If what I've heard is correct, the Arizona Game and Fish Commission will open for comment Friday a proposed rule that will all but end coyote calling contests where entry fees are charged and prizes, whether money or other items, are given away.

Last weekend, 27 men and women, who ranged in ages 17 to 67, came to the Mohave Sportsman Club's 7 Mile Hill Range. Their purpose was to take an advanced class in hunter education that would result in them obtaining a permanent bonus point that will assist them in drawing big game tags in the future.

After winning the KBC's first two tournaments of the year, the father-son team participated in the club's third tournament of the year, a two-day event at Alamo Lake.
The Region 3 office of the Arizona Game and Fish Department will be holding an informational meeting on Thursday, April 4, from 3-5 p.m. at Desert Archery, 4045 N. Bank St.

Last week in this column I wrote about a fishing trip that Lake Havasu City resident Mike Hulsey and I made to Lake Comedero in central Mexico.

Going out of country to Mexico, which has arguably the best largemouth bass fishing an angler can find, is one of my bucket list items.

I hate to be the one who says, "I told you so," but the Arizona Game and Fish Commission at its February meeting in Yuma voted to start the rulemaking process to try and control coyote calling contests in Arizona.

The father-son team of Ray and Donnie Scroggins shook off a tough first day at Martinez Lake on the Colorado River to easily win the Kingman Bass Club's second tournament of the year.